GILBERTO ALVAREZ DEL MANZANO, MD
Tribeca, NY Dermatologist
Downtown Dermatology
Lea la biografía del Dr. Alvarez en Español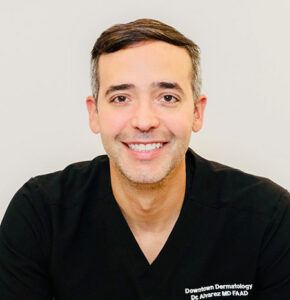 While being both an internist and a dermatologist, Dr. Alvarez treats both adults and pediatric patients. Having graduated Magna Cum Laude, he is a member of the Alpha Omega Honor Medical Society. Dr. Alvarez teaches dermatology residents how to diagnose and manage skin conditions at NYU and Mount Sinai Hospitals, where he holds faculty meetings.
Dr. Alvarez is a well-published doctor. He has had several articles published in dermatology peer-reviewed journals. He has done a lot of research into psoriasis and metabolic syndrome, rosacea, and cutaneous t-cell lymphomas.
He specializes in treating skin conditions such as psoriasis, eczema, contact dermatitis, itching, and urticaria. He also treats rosacea, sexually transmitted diseases, and acne.
Dr. Alvarez also performs certain skin condition procedures. He can remove cysts and different types of warts like genital warts, plantar, and verrucas warts. With a passion for language and traveling, Dr. Alvarez is fluent in English, Spanish, and Portuguese. He is also passionate about giving back to his community. Dr. Alvarez has helped with many different community service projects. These projects help deliver healthcare to populations like the elderly who may not have access to proper health care.
Office Hours
Monday: 1:15PM – 5:30PM
Tuesday: 10:00AM – 5:00PM
Wednesday: 10:00AM – 5:30PM
Thursday: 1:15PM – 5:00PM
Friday: (VIRTUALS ONLY)