A chemical peel is a treatment used to improve your skin's appearance. A chemical solution is applied to the skin, causing the top layers of skin to flake or peel away. This reveals new skin that is smoother, appears less wrinkled and may be more even in color.
WHAT CAN A CHEMICAL PEEL DO FOR MY SKIN?
A chemical peel can:
Reduce the appearance of fine lines, especially under the eyes and around the mouth.
Treat some skin conditions, such as acne and melasma.
Even out your skin color, especially if you have sun damage, age spots, freckles or blotchiness.
Brighten a dull complexion and smooth rough-feeling skin.
Your dermatologist may enhance your results by combining a chemical peel with another procedure, such as a laser treatment or injections with fillers or botulinum toxin. Your dermatologist can determine which treatments will meet your skin care needs.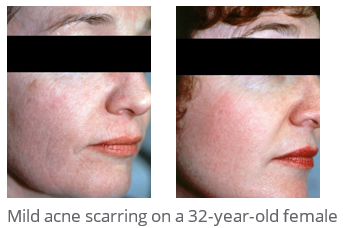 HOW IS A CHEMICAL PEEL PERFORMED?
A chemical peel involves the application of one or more chemical solutions to a certain part of your body, such as the face, neck, chest or hands. The chemical solution usually contains glycolic acid, trichloroacetic acid, salicylic acid, lactic acid or carbolic acid. These acids remove dead skin cells. Many chemical peels use a combination of different acids tailored to treat your specific needs.
Your dermatologist will choose the proper chemical solution and depth of your peel, based on the type of skin damage you have and your desired results.
Once the chemical peel is applied to your skin, your dermatologist will monitor your skin carefully to remove the peel at just the right time.
During a chemical peel, most patients experience a warm to hot sensation that may last about five to 10 minutes. You may experience some stinging. A deeper peel can be more painful and require medication during or after the procedure, and it may have a longer recovery time.
Depending on the depth and strength of the chemical peel, the treatment may be performed in a dermatologist's office. A deeper peel maybe performed in an outpatient surgical center.
WHAT ARE THE DIFFERENT TYPES OF CHEMICAL PEELS?
Light or "lunchtime" peel: These mild peels can be performed with little or no downtime. The peels can result in new skin within a week's time. You may feel a mild sunburn-like sensation on your skin with some redness and scaling. Additional peels can be performed in one- to four-week intervals to achieve more significant improvement.
Medium peel: This is a more intense peel that can result in blistering and swelling of the skin. New skin can appear within two weeks' time. Follow-up appointments are necessary to ensure proper healing.
Deep peel: This is an intense peel that can require general anesthesia (which means you will be asleep) during the treatment.
WHAT SHOULD BE EXPECTED AFTER TREATMENT?
It is important to avoid sun exposure immediately after a chemical peel since the new skin is fragile and more susceptible to injury. Dermatologists recommend that everyone use a broad-spectrum (protects against both UVA and UVB rays), water-resistant sunscreen that has an SPF of 30 or higher.
Your dermatologist may provide you with a moisturizer or a medicated lotion or cream to apply to your skin to help it heal. You also may receive a prescription oral antiviral medication to take for seven to 10 days around the time of your treatment to help prevent cold sores.
Depending on the type of peel, your dermatologist may schedule appropriate follow-up care.
HOW LONG AFTER A CHEMICAL PEEL CAN I WEAR MAKEUP?
If you receive a light peel, you can usually wear makeup immediately following the treatment, but sometimes you need to wait until the next day. For a medium peel, you should wait five to seven days before applying makeup. A deep peel requires waiting at least two weeks before wearing makeup.
WHO SHOULD BE PERFORMING MY CHEMICAL PEEL?
The results you see after getting a chemical peel depend largely on the skill of the person performing the peel. To protect your health and get the results you seek, you should see a board-certified dermatologist. These doctors have the expertise to evaluate your skin and determine what type of chemical peel would be right for you.
ARE THERE ANY SIDE EFFECTS FROM A CHEMICAL PEEL?
Side effects from chemical peels vary depending on the depth of the peel. The deeper the peel, the higher the risk for more severe side effects, such as swelling or prolonged peeling. You may experience persistent redness on your skin that can last several months.
If you have a family history of discoloration of the skin or are taking birth control pills, you may develop a temporary darkening of the skin. Some people who have had medium or deep peels develop permanent changes in their skin color (either lightening or darkening of the skin).
If you are susceptible to cold sores (herpes simplex infections), tell your dermatologist before your chemical peel. You may have a reactivation of cold sores or fever blisters following this treatment.
There is a risk of scarring after a chemical peel, but this risk is very low. If you have a history of keloids, your skin scars easily or you have recurring cold sores, it is important to tell your dermatologist about this before a chemical peel so he or she can take the proper precautions.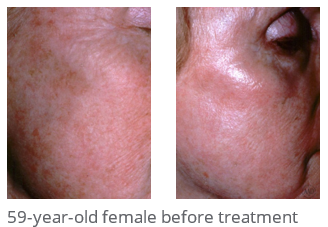 IS A CHEMICAL PEEL APPROPRIATE FOR SKIN OF COLOR?
It is usually safe for people who have skin of color to have milder chemical peels. Make sure you see a board-certified dermatologist who has expertise using chemical peels to treat darker skin tones. If the person performing the peel does not have this knowledge, people who have skin of color can develop permanent pigment problems.
HOW EFFECTIVE ARE AT-HOME CHEMICAL PEELS?
If you are considering using an at-home chemical peel, talk with your dermatologist. At-home chemical peels, even those with low acid concentrations, can cause serious problems if applied incorrectly.
A board-certified dermatologist is a medical doctor who specializes in diagnosing and treating medical, surgical and cosmetic conditions of the skin, hair and nails. To learn more about chemical peels or to find a board-certified dermatologist in your area, visit aad.org/chemical-peels or call toll-free (888) 462-DERM (3376).


All content solely developed by the American Academy of Dermatology.

Copyright © by the American Academy of Dermatology and the American Academy of Dermatology Association.

Images used with permission of the American Academy of Dermatology National Library of Dermatologic Teaching Slides

American Academy of Dermatology P.O. Box 1968, Des Plaines, Illinois 60017

AAD Public Information Center: 888.462.DERM (3376) AAD
Member Resource Center: 866.503.SKIN (7546) Outside the
United States: 847.240.1280
Web: aad.org
Email: [email protected]